Sheila Hancock – a fantastically talented actress who at the age of 76 looks and behaves very much younger was featured in an article about the clothes that she likes to wear. She is actively involved in numerous projects with an energy and commitment that puts many of us to shame. The surprise for us this morning was someone bringing in the paper in which Sheila is seen wearing a hand pleated silk two piece and a hand painted velvet jacket in which I am proud to say I think that she looks stunning. The article titled "Me and my wardrobe: I hate it when people say I am well-dressed 'for my age', says Sheila Hancock" goes on to talk about the things that she has in her wardrobe from her day wear to the more special pieces for the glamorous occasions. What I love about her is her down-to-earth approach to clothes. She does not need or want them to be anything other than comfortable and practical.
This full-length purple dress is by Welsh designers Charles and Patricia Lester. A personal shopper at Liberty found it for me.
It is made of crinkled silk you keep in a bag, and then you just shake it out.
It weighs almost nothing and you can take it anywhere. I've worn it for the Baftas and other events. I liked it so much I bought one in blue, too.
Here (top rightI am wearing it with a long velvet jacket from Liberty, which seems to go with anything.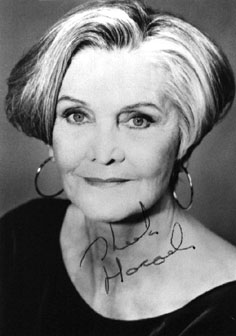 Sheila Hancock who is in the musical Sister Act
"At the moment, as well as being in Sister Act, I am filming a TV documentary about the suffragettes and planning a new book."
This is one busy lady who has little time to browse the shops instead using the services of personal shoppers who have got to know her well. It was through the personal shoppers in Liberty that she was first introduced to our things. I can't include a picture here as I am not sure of copyright issues – but click on this link and it will take you to Trevor Moore's photograph of her wearing one of our outfits in purple silk.
Seeing this feature and knowing the story that is behind the story of how Sheila came to be wearing our things, it got me thinking about how other people look at their PR. Do you view it as a quick fix, magic bullet, lottery win answer to your publicity needs? Or do you see it as a long term investment in establishing your brand and reputation to a wider audience?
It is not unusual for Charles and Patricia Lester's clothes to be seen on celebrities around the world but not many people know who these designers are or what they are about. A good thing in some respects as that allows us to continue to create things for real people who have real bodies and a real need to look as glamorous and glorious as some of our more famous counterparts. We have never been about 'fashion' per se but more about individuals and their need to express their personalities in a way that feels comfortable and right for them.
Italian Vogue 1986
It is also not unusual for things to be featured in the press although less so in recent years because the journalists of today are a new generation who are following the current trends and fashions. Whatever the age or the era, we have always followed the rule that you treat every press contact with respect, friendliness, support and encouragement regardless of what role they play or how significant they are at the time. It never mattered whether we were talking to an assistant or even an assistant's assistant – they were always greeted with the same friendly smile and "how can I help you to do your job today"
Too often we think that we should approach the top guns and SELL our story to the ones who have the biggest audiences but this is not the case. EVERY contact you make is a valid one. They may not pay dividends now but they certainly will in the future. We are finding this particularly pertinent now with making connections on places like Twitter and LinkedIn – the preferred platform for many of these contemporary editors and journalists. The great thing is that even though we have never had a conversation with these people until very recently, we already have some form of relationship with them because they are aware of us and what we do from their history of having been involved with the high profile magazines which have featured our work over the years.
So now with the development of social media and the power of the individual voices of the world, how are you approaching your press and publicity? Can you claim to get the attention of the stars of your world? Can you get the offline media to feature you willingly because you have a great reputation to back up your story?

Daily Mail Article written by journalist Diana Appleyard who writes regularly for the Daily Mail.